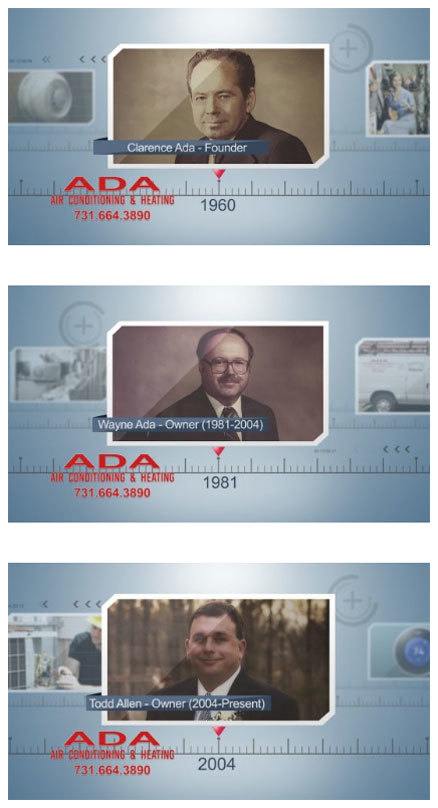 ---
In 1960 Clarence Ada opened up Ada Air conditioning in the hopes of creating a company that would be able to provide the best quality and most honest service to the people he called his neighbors. Clarence Ada served in World War II and upon his return he entered into the trades. For 15 years he worked in the field providing Air Conditioning and refrigeration service to the Jackson, TN Area. This is the point in his life where he decided he wanted to work for himself and create something for his family so they would be successful for years to come. For years he grew the company to become known in Madison County for his great service he provided and it didn't end when his son Wayne Ada took it over.
Wayne Ada has lived in Jackson, TN his whole life and after school he served in the United States Air Force for a time before returning home to Jackson where he started helping his dad, Clarence, in the business. He started in 1964 working with the company and for 17 years he learned from his father how to provide great service to the area and leadership for his fellow workers. In 1981 Wayne took the reins of Ada Air Conditioning and began serving the Jackson, TN Area with top quality residential service and light commercial services. A few years later ,as legacy would have it, his son got involved in the company and began his journey of success.
Todd Allen Began his journey in Ada Air conditioning around 1985, where he provided installation of HVAC equipment at an entry level technician. Todd is much like his dad and grandad, born and raised in the Jackson, TN area where he graduated from Southside High School. He has raised his family here as well and continues to reside in Jackson. In 2004 Todd took over the company and began to create his own dream by making Ada Air Conditioning what it is today. Todd Allen continues to provide excellent heating and air conditioning service to his friends and neighbors in the Jackson, TN area.
The next phase for Ada Air Conditioning came in 2022. This is where I was fortunate enough to get involved with Todd, his family, and all the wonderful people here at Ada. My Name is Zack and I am a 3rd Generation HVAC owner much like Todd. Our stories are very similar which really helped all of us get along so well. I began at 12 years old with my grandfather and grew my Company in McKenzie, TN after my opportunity to run it. Learning along the way, it's more about the people you have working with you than how much work you can do. This was another big reason for me wanting to join this team, we have Mrs. Belinda and Ryan who have been with the company for more than 20 years, and John who has been with us for two and a half years. Without all four of them accepting me as part of their team we wouldn't be here today. I look forward to providing the best quality service with even better customer service to all the people who I now get to serve in the Jackson, TN area.